Human Resource departments have undergone significant transformations in their workflows, especially with the introduction of talent analytics in the mid-1900s. Since then, advances in the applicability of AI & ML methods in industry have fueled a critical shift in HR management; going from prescriptive to predictive analytics. With the pandemic having exemplified and amplified modern employee management challenges (e.g. "The Great Resignation") Talent (or People) Analytics offers companies a feasible and viable counter-response to today's turbulent labour market. 
In this article we describe what talent analytics is, showcase our top 7 talent analytics use cases and how your organisation can get started.
What is talent analytics?
Talent Analytics is a data-driven methodology that helps HR manage their workforce more effectively.
With an arsenal of AI-powered tools and an ever growing number of use cases, talent analytics can be applied along the entire employee lifecycle; from attracting better talent, to making smarter hiring decisions, more effective performance management and increasing employee retention.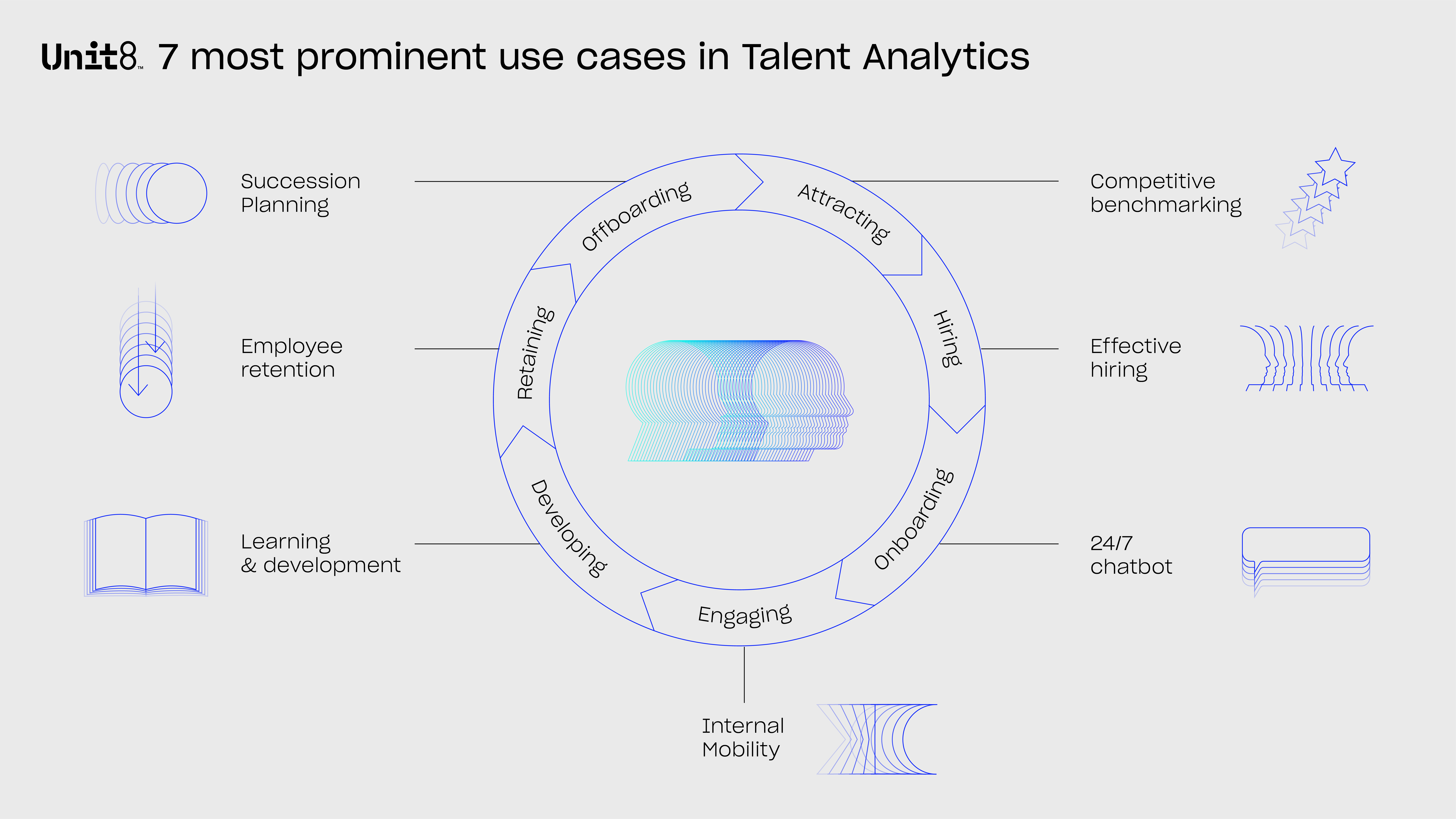 7 Talent Analytics Use Cases
Empowering your HR with data science tools unlocks new avenues on which to compete for and manage talent. With People Analytics, HR managers can now get data-backed answers to difficult questions.
1. Competitive Benchmarking
How attractive are you as an employer in your target market? How does your EVP (Employee Value Proposition) stand against the competition? 
We enable our clients to continuously monitor their EVP's performance against the industry and direct competitors. We aggregate both publicly-available and internal data about (ex-) employee reported experiences at the company, and feed easily-digestible insights into user-friendly dashboards. This unlocks an internal comparison capability where HR can see how different geographical regions, business units and departments perform in terms of their EVP. Furthermore, HR managers are constantly informed on how their company stands against the competition with actionable insights pinpointing gaps to improve their EVP.
2. Effective Hiring
Which applicants are best suited for the job profile? Are you making the best decision for both the company and the applicant? 
By identifying, collecting and aggregating relevant applicant data (e.g. CV, LinkedIn, reference letters, etc…) our clients get a filtered-down list of the most qualified applicants with a corresponding "fit" score for the profile-relevant criteria. This streamlines the filtering process, allowing our clients to speed up their decision-making and positively impact their time-to-fulfilment rate for vacant positions.
3. 24/7 Chatbot
Are you looking to improve, automate and simplify the new hire onboarding process? Do you know which low-hanging tasks and processes can be offloaded onto chatbots?   
With recent advances in large language models (e.g. ChaptGPT) leveraging chatbot technology in day-to-day business is no longer a concept limited to the whiteboard. In HR specifically, chatbots are increasingly being applied for pre-onboarding, paperwork, feedback and query handling tasks. By programming them to own highly repetitive, predictable, and mundane workflows they are a wonderful tool for reducing bottlenecks and freeing up capacity of HR managers for more complex and business-critical tasks. Furthermore, with the recent release of the OpenAI Azure service the application of chatbots will see it grow beyond HR workflows.
4. Supercharging Internal Mobility
Which employees have transferable skills and are a good fit for new roles? Are you making the best use of your existing workforce?
Our clients struggled to leverage their internal talent because they were missing a one-view platform of all employees with the corresponding data on experience, skills and capabilities. Their process for executing an internal transfer was riddled with mountains of manual document analysis, repetitive cross-departmental calls/meetings and bureaucratic employee data requests. This patchwork solution offered no space for scaling because the process was inherently one big bottleneck.
After having connected their databases and aggregated into a dashboard our clients benefited from a recommender system that continuously monitors and shortlists employees with a high matching potential for job rotation programs, job swaps, cross-team projects and mentoring. With an accelerated time-to-result our clients can respond more rapidly and with a previously unattainable agility to an employee's desire for a role change.
5. Learning & Development
Which employees need to be up- or cross-skilled in order for your company to remain competitive? Are you allocating investments towards the right training?
Every industry finds itself in a perpetual state of change, fueled by the relentless waves of digitization initiatives that were triggered mid-pandemic. As automation changed our client's operations, the workforce's skills needed a corresponding adaptation. Without the technological means they resorted to slow, outdated tools and manually-coordinated processes to identify who needed development and in what topic specifically. 
By streamlining cyclical feedback forms and combining it with existing employee databases, our clients have a frequently updated understanding of their employee education desires and can allocate their financial investments in training more effectively.
6. Employee retention
What are the current workplace frustrations across different geographical locations, business units and/or departments? Do you have data-driven strategies to reduce attrition rates?
Since the pandemic employers have had to deal with previously unseen levels of attrition rates. Our clients were struggling with keeping people because of a two-folded issue. First, having a process in place to collect individual feedback and aggregating it. Second, was being able to respond in a timely manner. Third, was knowing what to change in order to reduce attrition.
By setting up data pipelines across departments, linking employee feedback forms, with performance reviews, and exit interviews our client, a global pharmaceutical company, was able to better understand what was insufficient in their leadership, responsibilities, culture, workspace, and processes.
They can now analyse employee feedback at scale, get actionable intel via drill-down dashboards and counter employee churn with data-driven recommendations.
7. Succession Planning
Which candidates should be selected for further development to eventually take over a new role in the future? 
Well-managed succession planning allows for retaining institutional knowledge within the company and ensuring specialised competencies are replaced. Sounds simple enough but in practice remains a persistent challenge. The hurdle for our clients, like with many data science projects, was getting the right data into the right processes to the right users. 
With people analytics solutions our clients can constantly monitor hundreds of roles, evaluate the role's degree of business-criticality, approximate the threat of vacancy, determine which group of employees are best suited to substitute and what skills they'll need to perform the new job.
How to get started? Step-by-step approach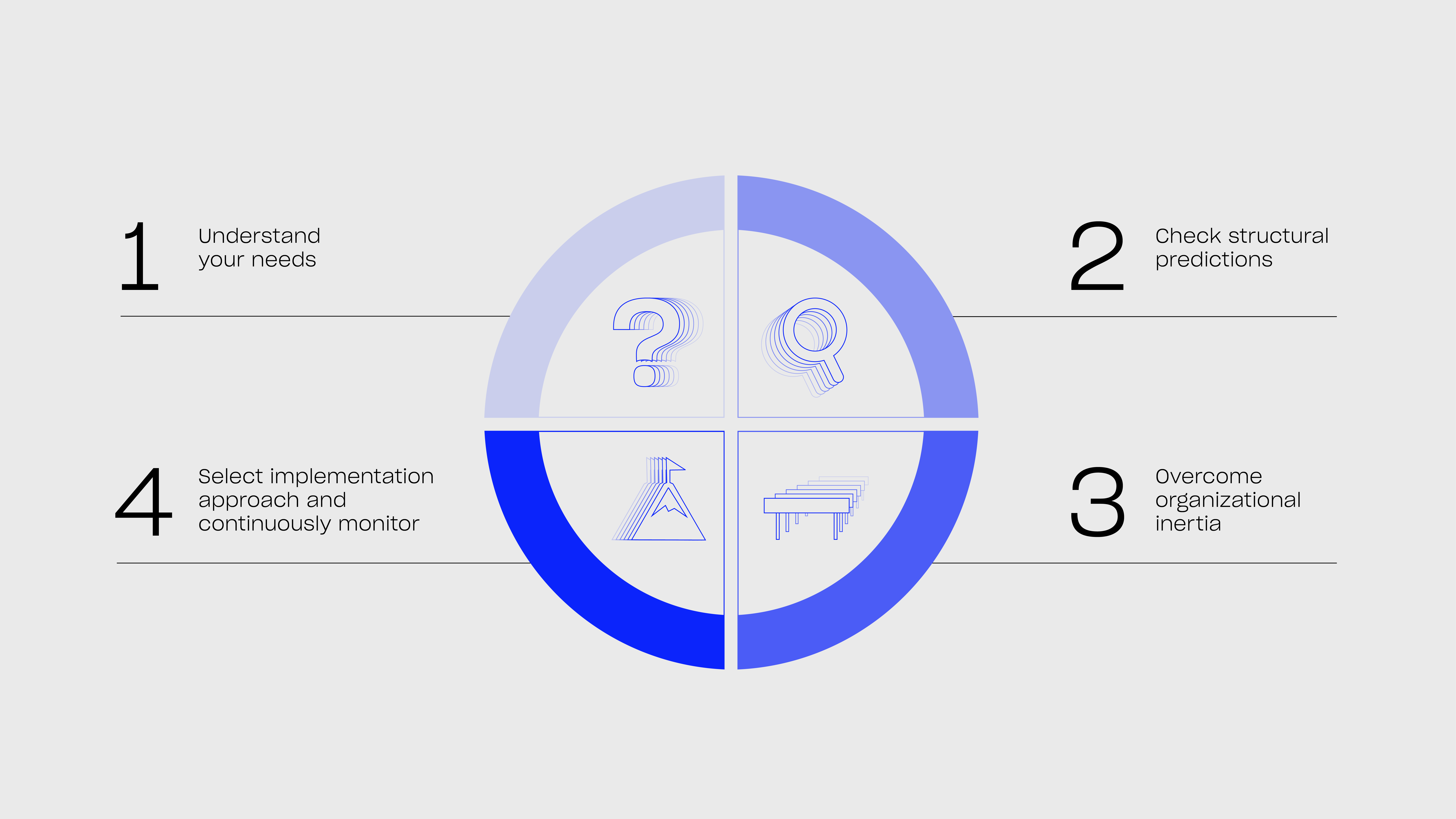 Step 1 – Understand your needs
Whether people analytics is right for you depends on your current challenges and future requirements. From navigating the current turbulent labour market (i.e. difficulties in attracting, hiring and retaining) to top-down pressure for company-wide digitalization. Identifying and mapping out your needs based on trends and stakeholder expectations will help you decide if adopting talent analytics makes sense.
Step 2 – Check structural preconditions
Is your company/HR ready to adopt such a solution in terms of technological capabilities, data regulation maturity and having a data-driven culture/mindset? Identifying and designing contingencies for structural restraints before embarking on this journey can prevent common pitfalls in the beginning.
Step 3 – Overcoming inertia
Change is always met with resistance and in order to accelerate future implementation, we recommend incorporating change management practices early on. Preliminary research on relevant use cases and their potential business impact will help you achieve the following:
Defining and communicating a strategic vision. This unifies the efforts of relevant stakeholders to act in a common direction.

Getting management buy-in by identifying low hanging fruit with high upside potential

Instilling team confidence with a high-level roadmap of use cases
Step 4 – Implementation approach and continuous monitoring.
Once your vision, team and stakeholders are aligned the next step is to decide how to internalise talent analytics. 
Depending on internal data engineering & data science capabilities your organisation may be in a position to develop a solution in-house independently. 
Most importantly, talent analytics, like many other data science fields, evolves rapidly both in terms of technology and use cases. We recommend continuously monitoring the industry, adapting your vision and aligning your team and management accordingly. 
Summary
Organisations across industries are exploring its applications and realising the benefits outlined in this article. Implementing successful talent analytics practices has the potential to bring your organisation's HR capabilities to the next level. To get it right, the necessary expertise needs to be built up in-house or brought in with the support of an experienced implementation partner.