Introduction
With the OpenAI Service now generally available within Azure, your company can access some of the most advanced generative models in the world, paired with enterprise-grade capabilities and AI-optimised infrastructure of Microsoft Azure. You can boost your team's productivity by embedding large language models (LLM) like GPT into their workflows to generate & search content, streamline teamwork and augment customer sales & support teams.
In this article we'll provide an introductory overview of Azure OpenAI Service, its business applications and how to get started with it.
What is Azure OpenAI Service?
Azure OpenAI Service is a joint effort between Microsoft and OpenAI to democratise and industrialise AI for business.At its core, it's a collection of the most advanced generative AI models (e.g. GPT-4, GPT-3.5, DALL-E 2 and Codex) packaged in a manner made accessible for non-technical users.
Both SME and enterprise businesses have made it a part of their day-to-day. Companies like KPMG, Al Jazeera, and Moveworks are utilising Azure OpenAI Service to raise workforce efficiency, improve customer experience and streamline internal operations.
Azure OpenAI Service benefits & limitations
Despite it being early days, a multitude of applications exist in the domains of content generation & search, customer engagements and team collaboration. A few of which are described below.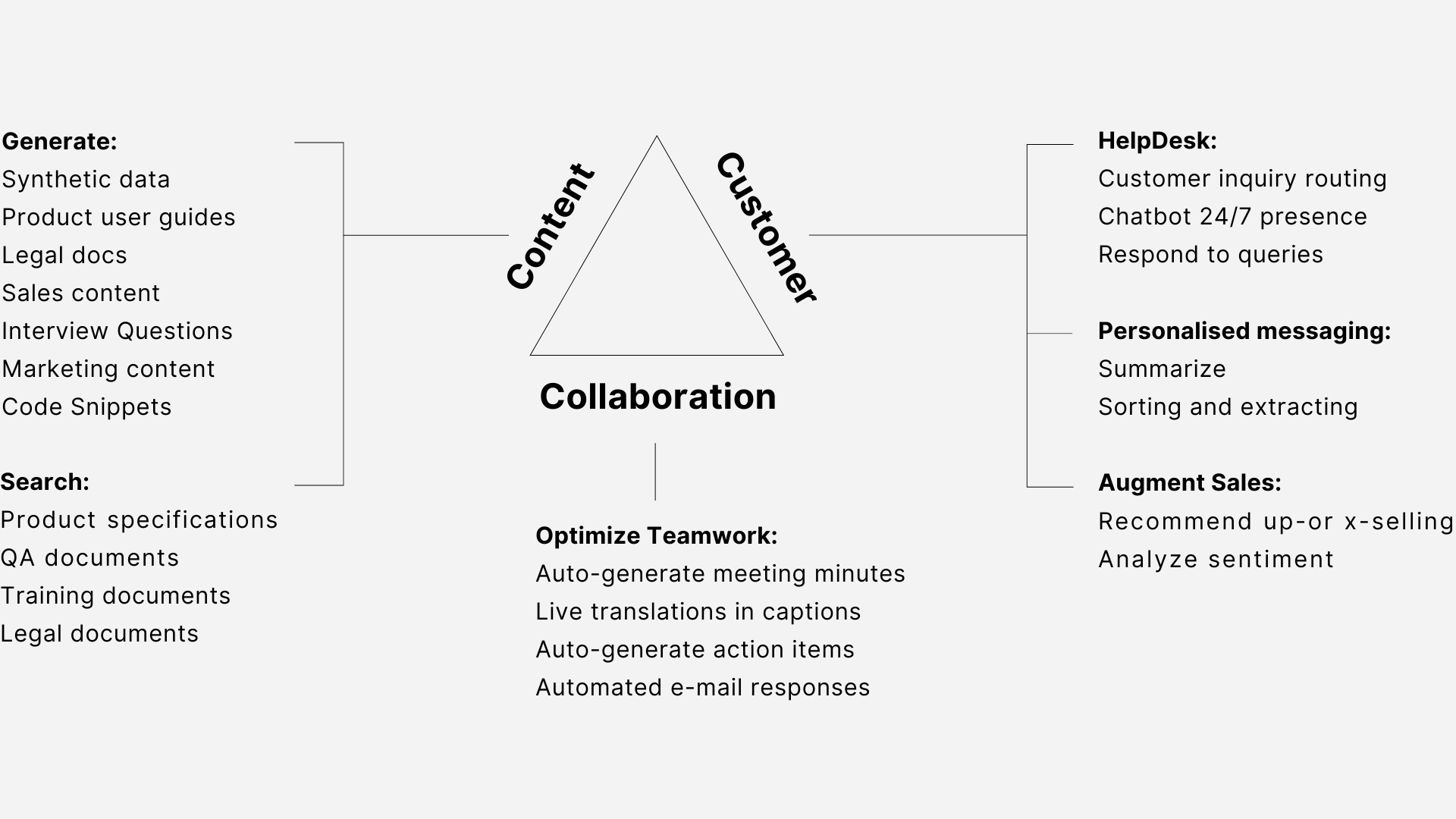 Increase the speed of content creation and delivery


Draft prepopulated documents so your team can focus on fine tuning and optimising the content, rather than having to start from scratch. We're seeing this capability be immensely popular among marketing, sales and legal departments. Within a few minutes personalised marketing, social media, technical sales messages and legal documents can be crafted, ready for editing.
Enable faster decision-making


Speed up the retrieval of information across vast amounts of structured and unstructured data, summarising key insights to accelerate decision making. This feature is particularly useful for acquiring specific knowledge and creating training for your workforce. We see manufacturing, pharma and chemical companies benefitting from AI that can search and summarise vast amounts of documents in their knowledge bases like product development, technical guides, sales instructions, legal etc.
Speed up content classification


Automatically classify content, optimising the way this is routed to downstream processing. Possible applications include customer service, complaints handling, and much more.
Summarise text in a matter of seconds


Automatically generate summaries of existing documents in your knowledge base, to adapt the content to other scopes or channels. Possible applications include the creation of training documents, marketing material, executive summaries for management, and etc.
Limitations
No technology comes without limitations and large language models are no different. The model in its current state is susceptible to:
generating output that is incorrect although with a high degree of confidence,

delivering biassed or harmful content due to compromised data,

legal questions about data and output ownership, which remain unanswered.
This tech should by no means be seen as a human replacement but rather as an opportunity to augment workers. We recommend applying it in processes with "humans-in-the-loop", that can verify and edit the model's output if necessary.
Deeper dive into real life use cases
Al Jazeera is leveraging Azure OpenAI to augment their journalists, reporters and processes for producing content. They're offloading repetitive and time-consuming tasks like summarising conversations from interview transcripts and telephone calls. As they cater to an international audience they translate content like news broadcasting, headlines, on-site reports, publications, audio recording, etc every minute. On a more strategic level, they're using Azure OpenAI to scan publicly-available data in order to determine which stories or headlines currently have the most attention and should be reported on.
KPMG is leveraging Azure OpenAI to accelerate the delivery of their Tax ESG offerings. Their clients have to make their tax contributions publicly available in a few years time. However, the data on these payments are fragmented Due to the IT heterogeneity, key information is distributed across systems, stored in different formats and often riddled with data quality issues (e.g. duplicates, missing, wrong values). With the integration of Azure OpenAI KPMG can automatically scan and find data relationships to predict tax payments, validate their accuracy and categorise payments by type/country
Moveworks has integrated Azure OpenAI service onto their machine learning stack. Armed with new capabilities they're able to scan their internal customer knowledge base, identify gaps and automatically draft knowledge articles based on those gaps. This has alleviated IT and HR teams, as employees via an intuitive self-service interface can find the knowledge articles themselves. Their next frontier is unlocking analytical and data visualisation capabilities.
How to get started?
Step 1 – Prompt Engineering
We help you design prompt engineering strategies to tailor off-the-shelf models to your business needs.
Step 2 – Model fine tuning
Together we fine tune the models, leveraging your company data as input, to further improve the results beyond what you can achieve with just prompt design
Step 3 – Custom guardrails
We help you incorporate additional guardrails into the models, beyond the defaults provided by Azure OpenAI, to ensure your company-specific needs are taken into account
Step 4 – Integration
We integrate the service into your existing workflows and IT architecture, so your users can scale, enjoy a seamless experience and their data remains secured.
Summary
Azure OpenAI service is for customers of all sizes across industries. From startups to multinationals, Azure OpenAI Service has use cases in customer support, customization, and gaining insights from data using search, data extraction, and classification.
As Microsoft's data & AI partner of the year in Switzerland, Unit8 can help you tailor these models to your company needs and incorporate them into your company architecture, for a seamless user experience and ensured data security.
Don't miss out on OpenAI resources
With the Microsoft's announcement about the integration of OpenAI models into its Azure ecosystem, Unit8's experts prepared an overview demo of how an industry-grade application can leverage OpenAI and be integrated into Azure ecosystem.
Have you wondered:
How to leverage the innovation being brought by OpenAI within an enterprise?
How to integrate the new Azure Open AI services with Azure Cognitive Search and Azure Speech?
How to speed up the retrieval of information across vast amounts of unstructured data?
How to constrain GPT models to only use your desired data?
Watch the video to answer those questions!