At Unit8 our mission is to help non-digital native companies reach new heights with the help of data, analytics, and AI. I can only feel proud of what we achieved, as a team, and want to share some of the highlights with you.
I would also like to extend a thank you message to our customers, partners, and our team members – as none of the below could have been made without you. Kudos!
What happened at Unit8 in 2022:
We delivered over 40 data projects, we hired 50+ new data experts and we started a collaboration with several new customers from banking / financial services/pharma & healthcare/energy and manufacturing sectors
Due to our ongoing development and continued growth, Unit8 was recognized by Financial Times as the #1 Fastest Growing Swiss company and one of the fastest-growing technology companies in all of Europe. Thank you for that!
As our high-scale development could not be done without valuable partnerships, we advanced a few:

we became a certified Palantir Foundry partner,
we started working more closely with Dataiku and are investing more into this relationship,
as a Data & AI Solution Partner of Microsoft Switzerland – we were awarded Microsoft's Swiss DATA & AI Partner of the Year,
these and other partnerships are allowing us to provide an end to end portfolio of services to our customers.

To help accelerate our mission – Sagard NewGen – an investment company supporting the development of leaders in the Technology and Healthcare sectors – became an investor and minority shareholder of Unit8 with the intention to help us build a leading European data, analytics, and AI consulting firm.
We could not do all the actions above without our amazing team, which surpassed 100 employees in 2022, with more to come in 2023! While we grow we keep an emphasis on maintaining our core values and an employee centric culture which is at the cornerstone of our success
This has been a year of milestones – we celebrated not only growing beyond 100 employees, but we also had our 5th Birthday – see the video summary
What we shared back with the community last year: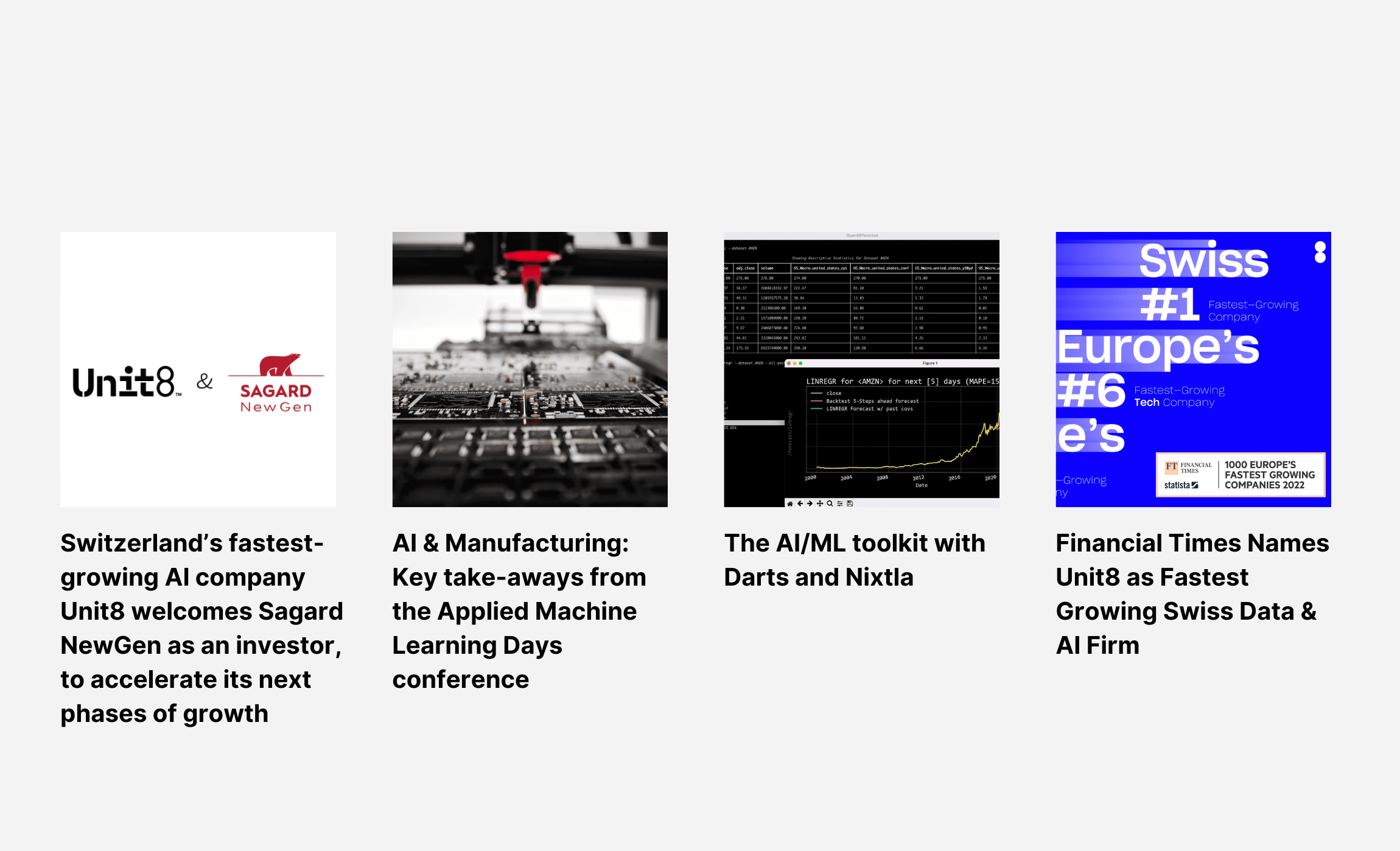 In 2022 we shared over 500 minutes of knowledge in form of articles, webinars, dedicated case studies, or whitepapers on analytics, data, and AI.
Fighting climate change and promoting sustainability are key values for us, in 2022 Unit8 made a step towards being carbon-neutral, with the help of myclimate.
We published 156 posts to over 13k followers on our LinkedIn profile. Thank you for being with us!
I have been named among Switzerland's 100 Digital Shapers 2022 by BILANZ, in the category: AI Masters!
The Unit8 Team has taken part in 20+ industry events, in Switzerland and internationally
Not only were we participants, but also the organizers – last year we hosted the AI in Manufacturing Track at the Applied Machine Learning Days conference, where we brought together 15 experts to discuss how AI is being applied and leveraged in the manufacturing space.
Charitable actions are one of the key values of our culture. Last year we started our donations a little bit earlier – donating the money to Polish Polish Humanitarian Action (PAH) for Ukraine. We also didn't abandon our yearly activities, as 1% of the company's EBIDT was transferred to charities in the form of donations, with the recipients decided by the whole Unit8 team.:
We ran over 80 km for a good cause in the 11th edition of the Poland Business Run. Together with other participants, the Charity collected over PLN 3 million!
We are also excited to see that our open-source timeseries library Darts keeps on attracting the attention of the community – thank you for over 5k stars on GitHub; we're thrilled to see darts becoming the forecasting engine of other tools – https://unit8.com/resources/the-ai-ml-toolkit-with-darts-and-nixtla/
Darts, our open source library for forecasting is still an industry top tool: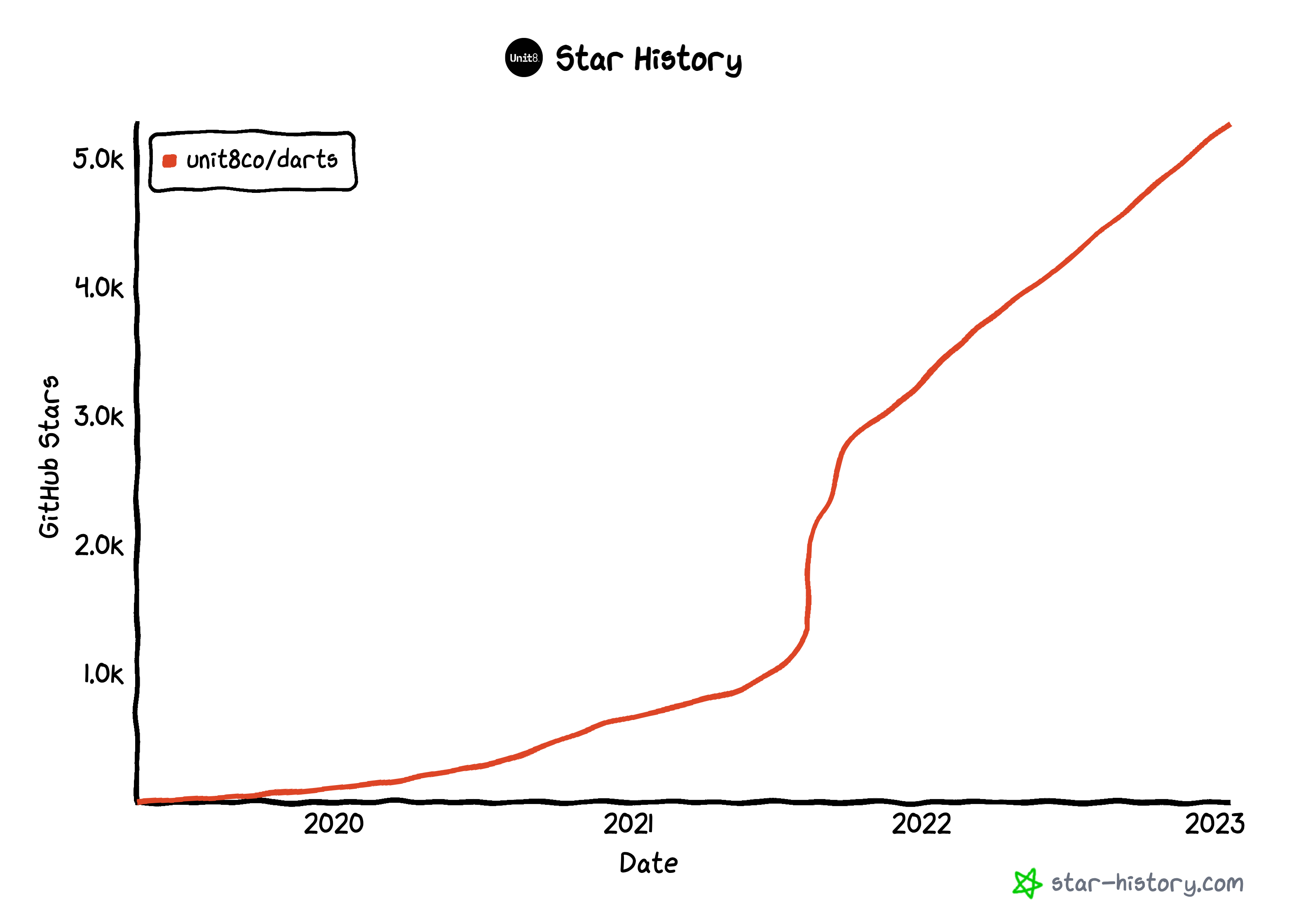 What our community liked the most: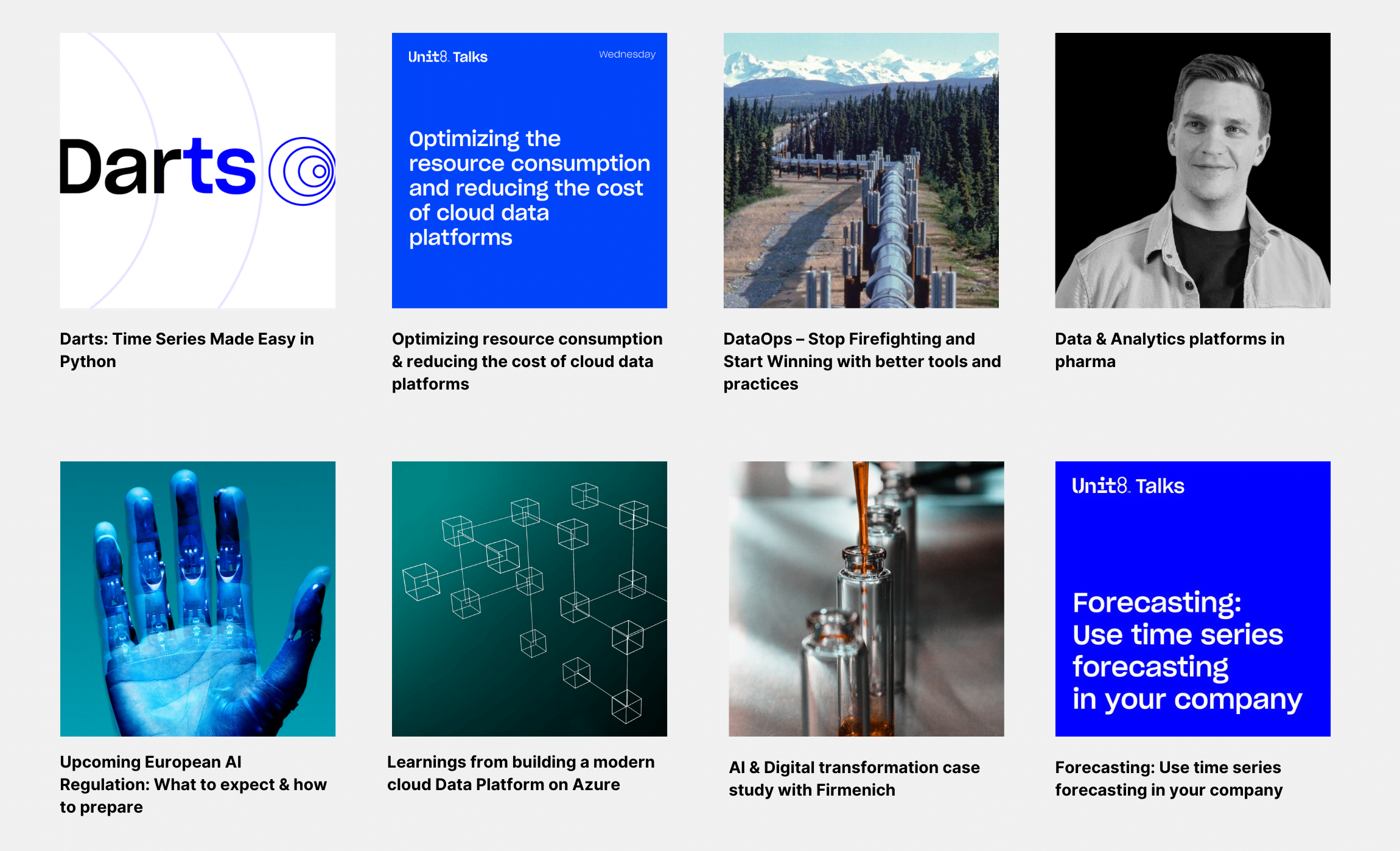 Articles:
Whitepapers:
The creation of fragrances has been made easier with AI & Digital transformation case study with Firmenich -among its many accolades, the company created the world's first AI flavor and has subsequently launched the first AI-developed perfumes on the market!
We have also taken a look at European AI Regulation, so important for the whole AI market. Despite many speculations, we shared our thoughts and tips on how to prepare.
Webinars:
You were the most interested in Optimizing resource consumption & reducing the cost of cloud data platforms in which Tomek Chudzik helped you with in our most viewed Unit8 Talk of 2022!
Over 100 hours spent with the Pharma industry! The data and analytics platforms and their usage took your attention, landing this webinar as the second most popular on our channel.
Why is forecasting important? You asked and we delivered how to use time series forecasting in your company! No surprise that this Unit8 Talk was one of the most played in 2022.
Growth = changes
In 2022 only we grew by 60%. With this dynamic growth, people started to "out-grow" our existing offices. That's why the year 2022 was the year of many moves!
We opened two new offices: one in Wrocław, Poland, and one in Bern, Switzerland. With our team's best interest in mind, we have created comfortable co-working spaces, waiting to be filled by more tech experts!
Our Kraków, Zurich, and Lausanne teams have not been left behind. We have moved to new and bigger offices in all three locations. Can you spot the Unit8 logo passing by these workplaces?
All of these changes allow us to be closer to our customers and partners!
Conclusion:
In 2022, we aspired to continue to accelerate our customers' data and AI journeys and help them transform data into value. I think we have far exceeded our expectations to fulfill this goal.
In 2023…
…we will continue our growth journey, accelerated by the investment of Sagard. We will continue to help our customers turn data into value at scale
…we will continue to engage with the community and share our passion in data & AI – last year's events were merely the start of our great ambitions to engage, inspire and share our knowledge with the community.
…we will build on some of the tremendous advancements in AI – with ChatGPT creating waves across industries and upcoming GPT4 – there has never been a more exciting time to work in the field of analytics and AI
Do you like what you read? Contact me for data advisory or consult our careers to join us.