Our mission at Unit8 is to help non-digital native companies reach new heights with the help of Data, Analytics, and AI. 2021 has been eventful and as we accelerate more and more into the new year, I believe that looking back at what has been done last year helps me as a CEO to shape the next steps. I can feel only proud of what we achieved, as a team, and want to share some of the highlights with you. I would also like to extend a thank you message to our customers, partners, and our team members – as none of the below could have been made without you. Kudos!
What happened at Unit8 in 2021:
We are constantly scaling our impact to ensure we deliver on our mission. We started a collaboration with a number of exciting companies and partners. A notable public example is our partnership with Merck where we are building, together with the client, a group-wide analytics platform.
It was a very diverse year from the project delivery perspective – we completed 30+ high-impact projects that bring our clients tangible business value, from big pharma, chemicals, through banks, insurance, to automotive and energy sectors.
An impact is not made in a bubble – in order to provide end-to-end solutions for our customers – we partner with the world's best technology companies – we achieved a triple Gold Partner status with Microsoft and we've made progress on our relationship with AWS
Darts, our open source library for forecasting, got a lot of traction, surpassing in popularity similar tools proposed by internet giants, and we are proud to see that it is increasingly used by some of the largest global and Swiss brands. New to Darts? Check out this recent talk.
We believe in giving back to the community and hence we kept engaging on a pro bono basis on several fronts – we continued our engagements with WWF, with Digital Switzerland and delivered 2252

volunteering hours

Finally, our team grew by 40 excellent team members, specializing in data, analytics, and AI. I'm very proud to see how our culture grows with us, despite quite a challenging environment at times

Despite the pandemic, we managed to bring the team together on many occasions and events (all obviously compliant :)), including our all-hands-on-board offsite we had in Munich last summer
What we shared back with the community last year: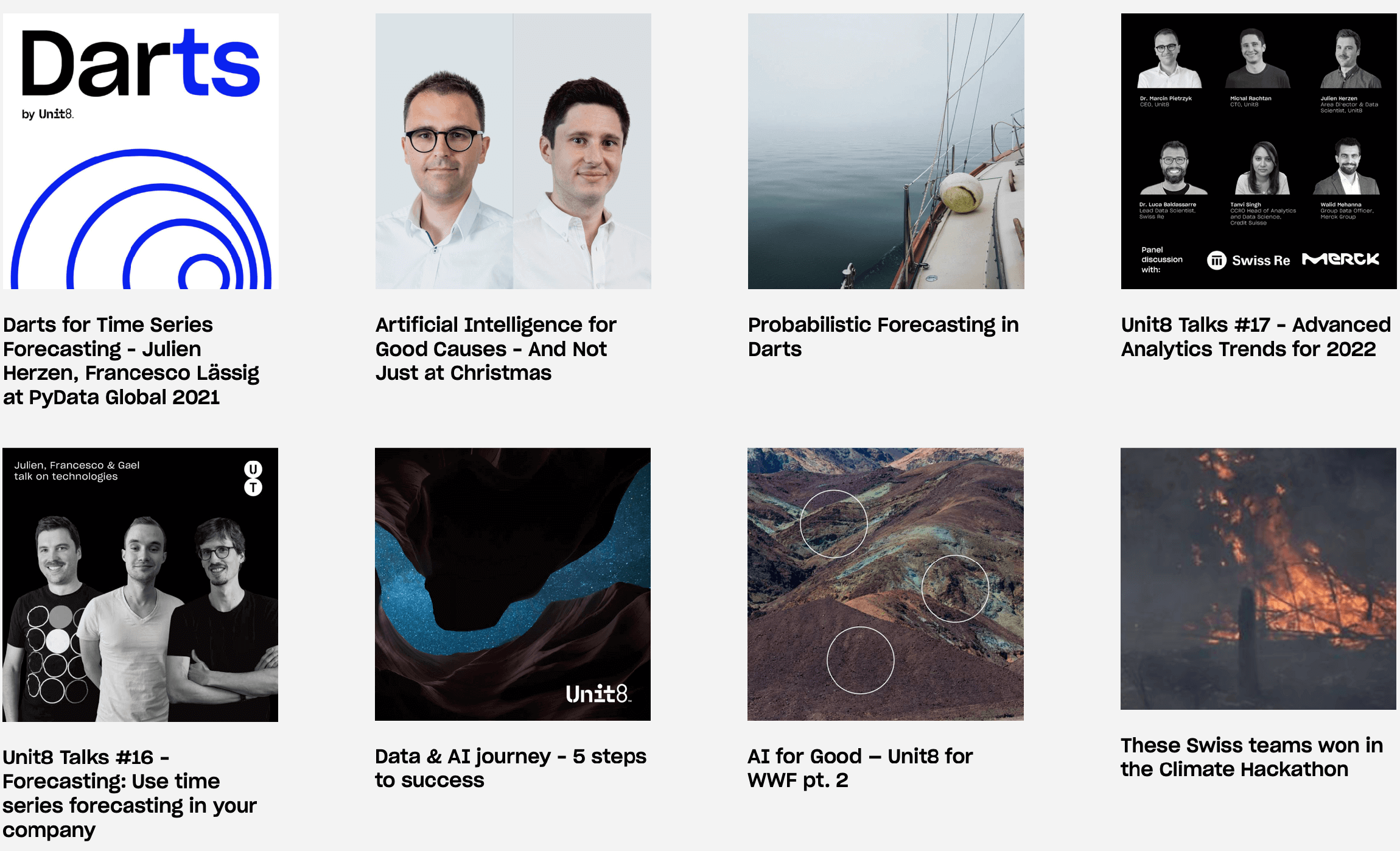 In 2021 we shared 600 minutes of knowledge in the form of articles or online sessions on analytics, data, and AI. We also contributed to the community by co-organizing and participating in industry events. The main highlights are listed below:
A panel discussion about

Advanced Analytics Trend for 2022

with Swiss Re, Credit Suisse, and Merck

We joined forces with

WWF

to

predict wildfires with Machine Learning

We spent

2252 hours on pro bono activities

for WWF, Powercoders, Aeris Futuro, and more

Marcin becoming a

DigitalSwitzerland's AI & Data Insights Expert

, committed to sharing knowledge

Darts reached

3.6K+ stars on Github

, has been downloaded more than 200K times, and is

highly shared in the community

We published 12 articles, organized 9 webinars, and delivered 6 workshops with our partner Microsoft Azure

We presented our learnings on various

AI events

like

Intelligent Health

,

Swiss Cognitive

and

PyData Global
Darts, our open source library for forecasting became an industry top tool: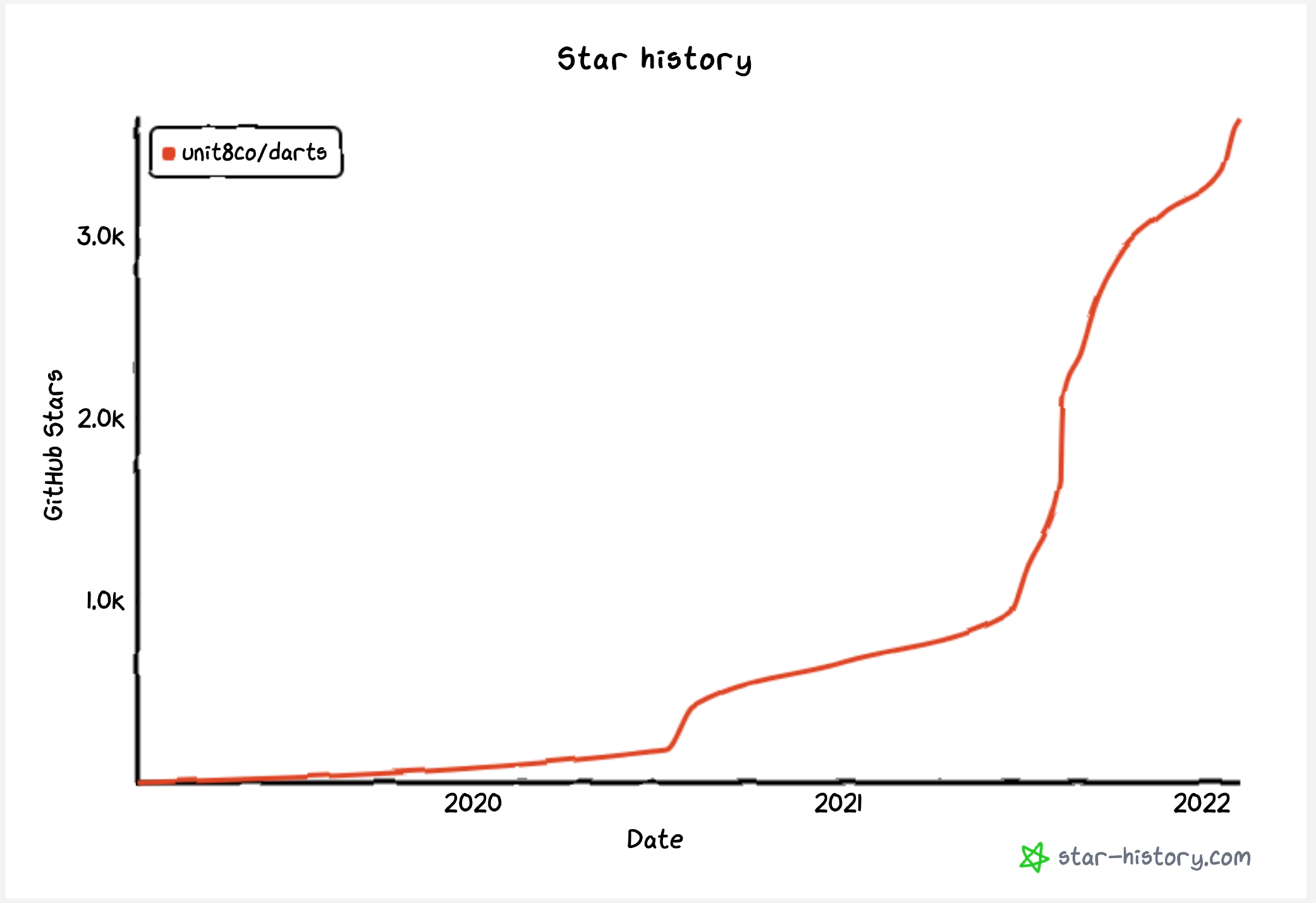 Our top blog articles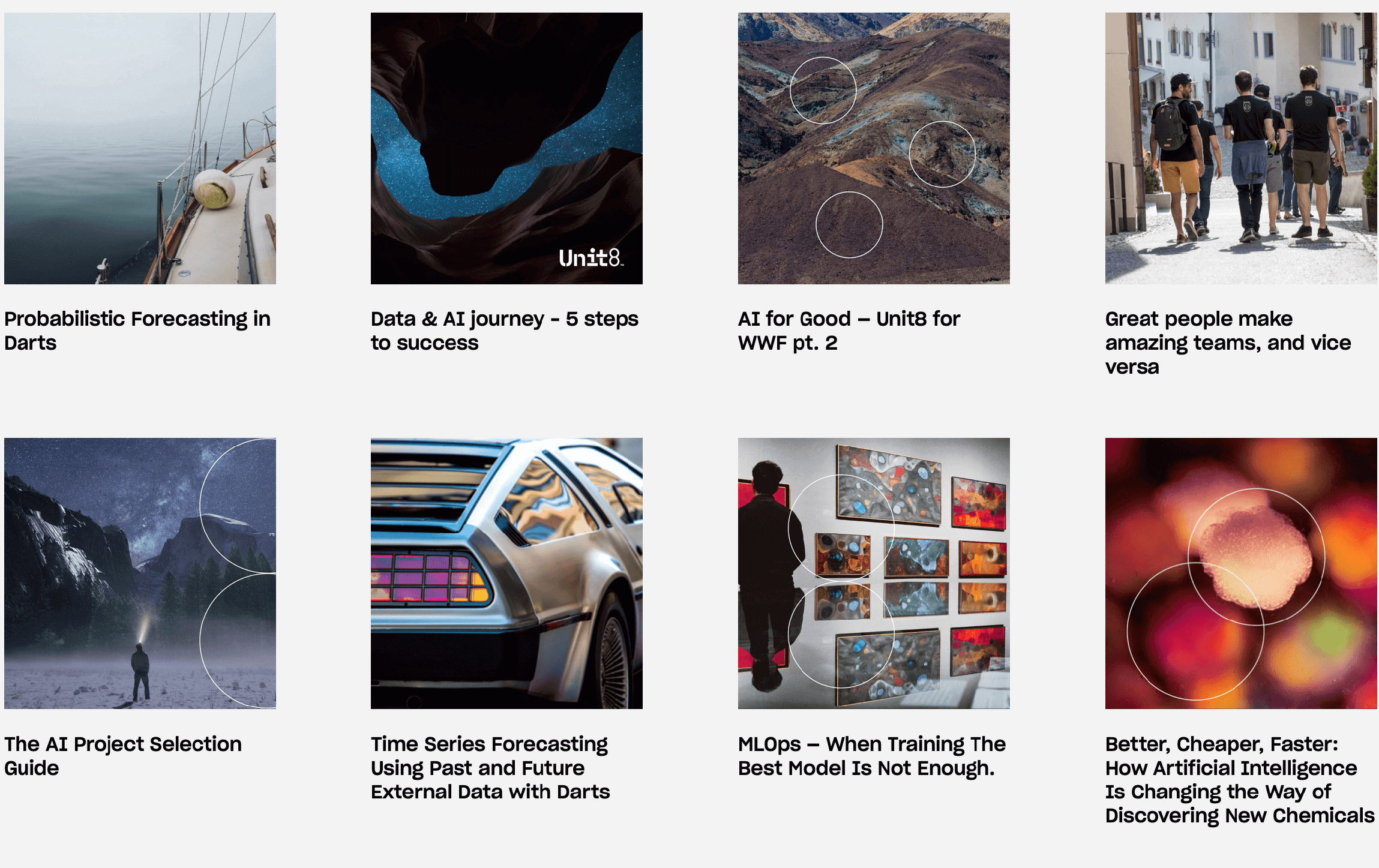 Our top webinars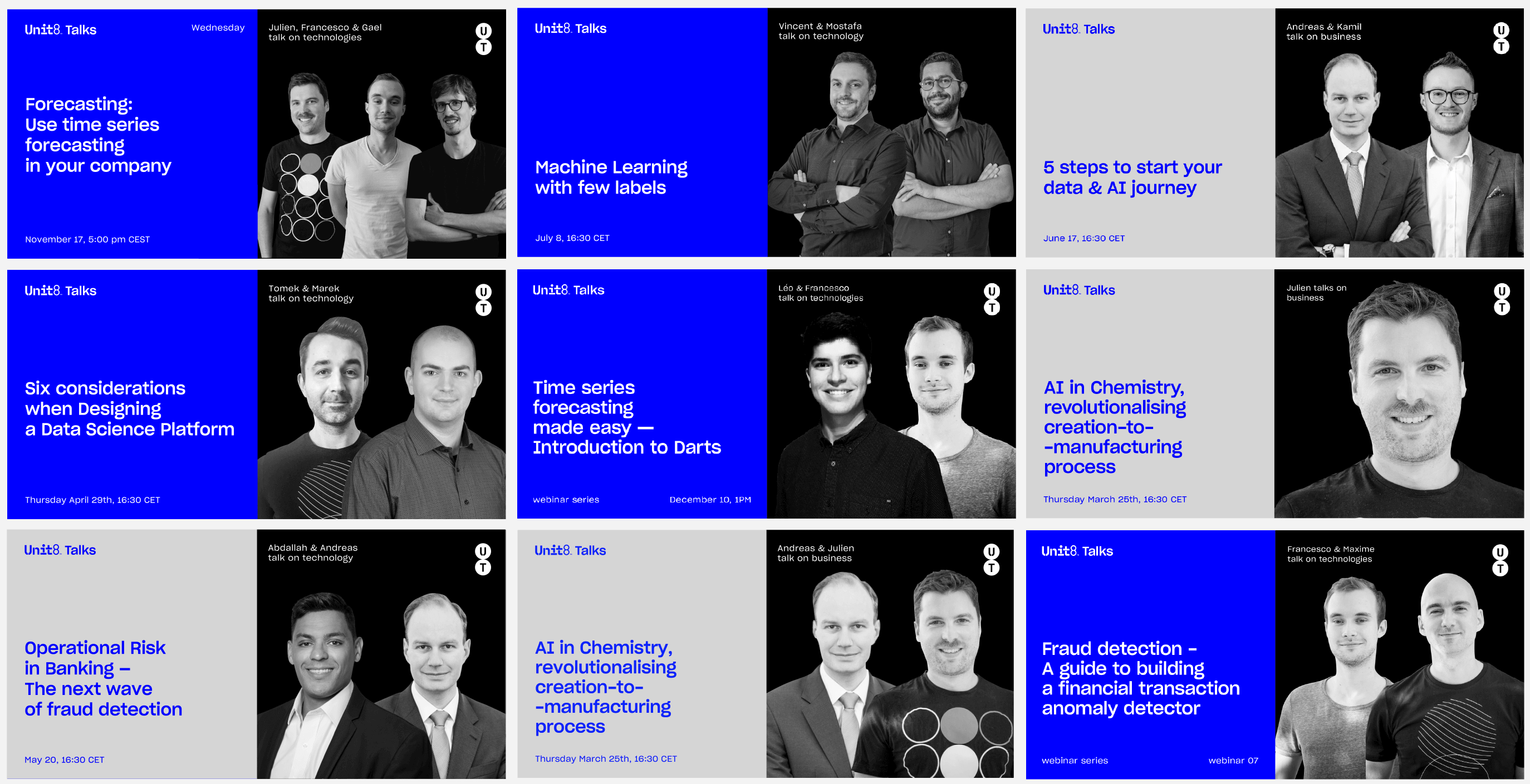 Our first Unit8 branding film
For the occasion of our 4th birthday, we created a branding film to show you more about the people behind Unit8's mission.
We have different ways, different backgrounds, different stories but the direction is the same.
Together, we can make an impact. We are united.
Our Unit8 first branding film reached more than 3K+ views on social media

We also launched our

short video series Unit8 Impacts

where we showcase amazing projects we have been working on
Conclusion:
We look at 2022 with a lot of optimism and good energy. Our aspiration is to continue to accelerate our customers' data and AI journeys and help them transform data into value. To do that we plan to grow further (and faster!).
While we're expanding our footprint in our existing offices in Lausanne, Zurich (Switzerland), and Krakow (Poland) – we also decided to accelerate the talent growth with our soon-to-be-opened 4th office – the beautiful city of Wroclaw, Poland.
We will continue to engage with the community and share our passion – in Q1 we have planned two hackathons and we will be helping in organizing the EPFL's AMLD, one of the biggest machine learning events in Europe.
New exciting partnerships are in preparation and we hope you will stay with us as many more cool things are coming!
Do you like what you read? Contact me for data advisory or consult our careers to join us.